New York State Bluebird Society 
The New York State Bluebird Society has been dedicated to Bringing Back Bluebirds since 1982. Read more about our history and mission here."
Welcome!
We hope that these pages will be both informative and enjoyable. Please feel free to contact us if you have any questions or comments or to become a member. Consider making a donation to NYSBS to keep our website up and running!
You can look for Meetings, Exhibits, and Events in your area by looking at the list on the right side of each page, or visit our Events Calendar to see more details about each event. Use the search form at the bottom of every page if you have a specific concern you'd like to research on this site.
The Eastern Bluebird
Eastern Bluebird Sialia sialis, length 7″, chestnut throat, sides of neck, breast, sides and flank; contrasting white belly, white undertail coverts.  Male is uniformly deep blue above; female grayer.  Call note is a musical, rising chur-lee, extended in song to chur chur-lee chur-lee.  Range:  Found in open woodlands, farmlands, and orchards.  Nests in holes in trees and posts, also in competition with starling and House Sparrow for nesting sites.  The provision of specially designed boxes by concerned conservationists has resulted in a promising comeback. National Geographic Field Guide to the Birds of North America, Fifth Edition
Click on our photo to hear
our song.
(Photo by Larry Zeleny)
---
Photo of the Month for August, 2016

Dad Standing Watch – Photo by Mike Western
Our beautiful Photo of the Month for August was submitted by Mike Western.   The male bluebird has the very important job of protecting his territory for the female and his brood/broods throughout the nesting season.  We often times see the male perched high up in a tree as he scans the area, sings his beautiful song and protects his territory.  He will help tend to the young once born and even plays a big role in helping them once they have fledged.  There is truly nothing like watching a male with his beautiful , vibrant blue colors and his beautiful song often found high up in a tree as this image so beautifully displays.   Great job, Mike!
Linda Schamberger*, Photo of the Month Judge
Would you like to see your photo featured here? Visit our Photo of the Month submission form to upload your photo, and we'll pick a photo to feature each month! See our 'fledgling' Photo of the Month archive, at the top of our Photos page, along with a huge collection of beautiful contributor photos.
*See the story about our new Photo of the Month Judge, Linda Schamberger, on our "What's New" page.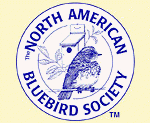 The New York State Bluebird Society is an affiliate of NABS
(North American Bluebird Society).