Calendar of Events
Welcome to the NYSBS Events Calendar, where you can see programs, meetings, and exhibits planned for your area. Use the drop-down box on the top right of the calendar to cycle through the different views available.  Clicking the "+" sign in each event's listing reveals more information about the event, and clicking "Read More" will show the full details.  The Category drop-down box can be used to sort events by county.
Sep
22
Sat
2018
Annual Fall Meeting of the New York State Bluebird Society

@ Albany Pine Bush Preserve Discovery Center
Sep 22 @ 9:30 am – 4:00 pm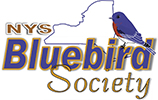 This is the Annual Fall General Membership Meeting where members and interested parties can learn about and share their knowledge of the Eastern Bluebird and find out how to participate in one of the country's most successful bird conservation programs. The day features educational sessions, displays and a lunch time where you can talk "Bluebirds" with fellow attendees. For those who are "early birds" there will be a bird banding demonstration starting at 7 AM.