Calendar of Events
Welcome to the NYSBS Events Calendar, where you can see programs, meetings, and exhibits planned for your area. Use the drop-down box on the top right of the calendar to cycle through the different views available.  Clicking the "+" sign in each event's listing reveals more information about the event, and clicking "Read More" will show the full details.  The Category drop-down box can be used to sort events by county.
Sep
23
Sat
2023
Annual NYSBS Meeting

@ Great Swamp Conservancy
Sep 23 @ 7:30 am – 3:00 pm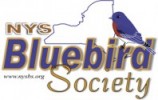 The NYSBS hopes that you can join us at the Great Swamp Conservancy in Madison County on Saturday, Sept. 23rd for our Annual Meeting. There will be opportunity to participate in an early morning bird identification walk, Silent Auction/Basket Raffle, chat with Board members about your Bluebird questions & experiences. For a minimal price of $10, join us for a tasty lunch provided by our host. There will be two speakers–a Wildlife Rehabilitator -Cynthia Page- and one of our very own Board Members-Hans Kunze. They will share their love of nature and expertise. Board members will also share information related to nest box data collection, setting up predator guards, along with ways to help Bluebirds survive NY winters. All things that would help further our mission of conserving the Eastern Bluebird and other native cavity nesting birds for future generations will be the focus of the day. Hope to see you there.