Calendar of Events
Welcome to the NYSBS Events Calendar, where you can see programs, meetings, and exhibits planned for your area. Use the drop-down box on the top right of the calendar to cycle through the different views available.  Clicking the "+" sign in each event's listing reveals more information about the event, and clicking "Read More" will show the full details.  The Category drop-down box can be used to sort events by county.
Mar
28
Wed
2018
Cortland, Cortland County – Eastern Bluebird Class 101

@ Cortland Free Library
Mar 28 @ 6:00 pm – 7:30 pm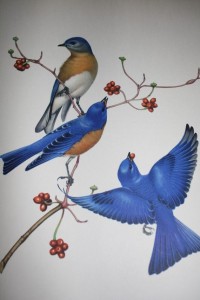 Eastern Bluebird 101 will be all you need to know about our State bird. Information will be provided about its history including some of the people responsible for the conservation of the Bluebird. The fascinating life cycle of the Bluebird from the start of the male attracting a female to the fledging of their young. The importance of proper Bluebird habitat, including setting up successful nestboxes for the Bluebird. Included as part of the presentation will be examples of plants that can provide the Bluebird with important food sources as well as beautify one's property.